The latest numbers for the Jersey City Tax Revaluation are in from ASI (the contractor who's conducting the reval) and it looks like it's getting fairly close to "final".  In-line with our previous updates, Downtown JC is bearing the brunt of the increases, with an average increase of 55% and we're starting to see signs of a profound shift in supply and demand dynamics as a result (see below the Excel document for a detailed analysis of Downtown JC Supply & Demand).  So far, there are a whopping 675 properties with a tax increase of more than $10k:
So what does all of this mean?  Well, one common narrative I've heard from other Agents is "Hoboken had a Reval a few years ago and prices have continued to rise steadily!"  If you hear this narrative it should be a red flag that the person you're talking to does not have a nuanced understanding of how a revaluation works.  Revaluations are generally "revenue neutral", so if the overall value of all properties has doubled, the tax rate will be cut in half.  In Hoboken, the tremendous appreciation of the past 30 years was widespread, and "all ships rose with the tide".  So when the revaluation occurred, in general taxes did not drastically change.  Jersey City has been a much different story!  Downtown Jersey City property values skyrocketed due to gentrification; however, less gentrified areas saw muted appreciation.  As a result, Downtown property owners (in general) will see massive tax increases, while Greenville property owners will see significant relief. This in and of itself does not tell us the degree to which the Reval will impact property values, but it pretty much shuts down the "It'll be a big nothing-burger just like the Hoboken Reval" narrative.
So, short of "waiting and seeing", how can we get a feel for where prices are headed?  In my opinion, the best way to look at this one is to go back to the fundamental supply and demand market forces.
Let's first  take a look at the Downtown Jersey City condo supply trends: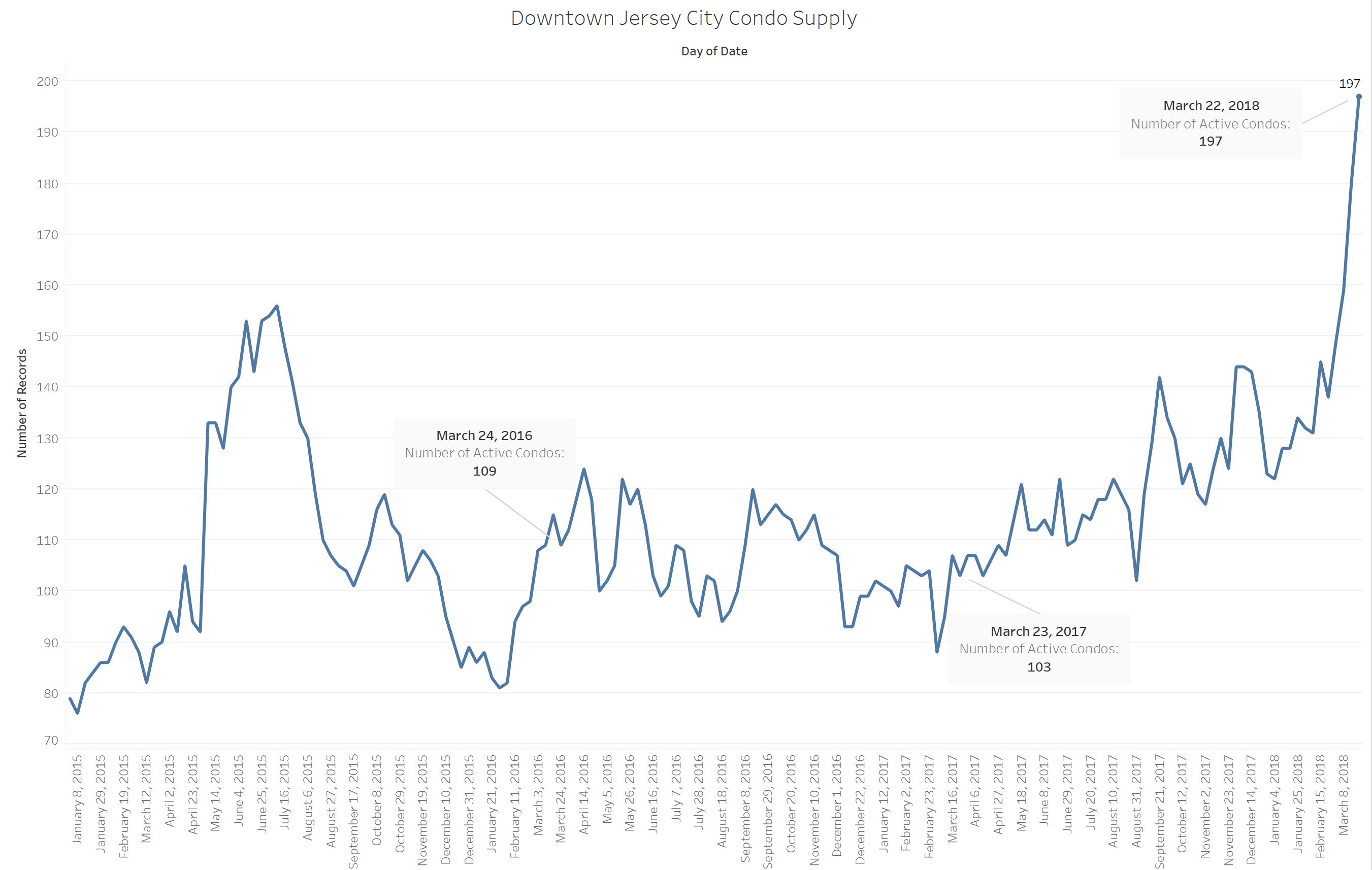 Notice the trend? Supply has nearly doubled year-over-year and now stands at what looks like an all-time high of 197 condos on the market.  What's most noteworthy is the change in the slope over the past 3 months, it's gone nearly vertical – it's a red flag.  OK, so supply is clearly up, let's look at demand.
There are a couple of ways we can look at demand.  Since it usually takes 30-60 days to close on a condo purchase (cash deals excluded), the best way to get an up to date measurement of demand is looking at deposits accepted by owner (DABO) stats.  Since inventory is up, we know clearly that the market is not yet absorbing the supply – but with double the inventory, you'd typically expect to see some degree of an uptick in DABOs.  Let's see what's going on: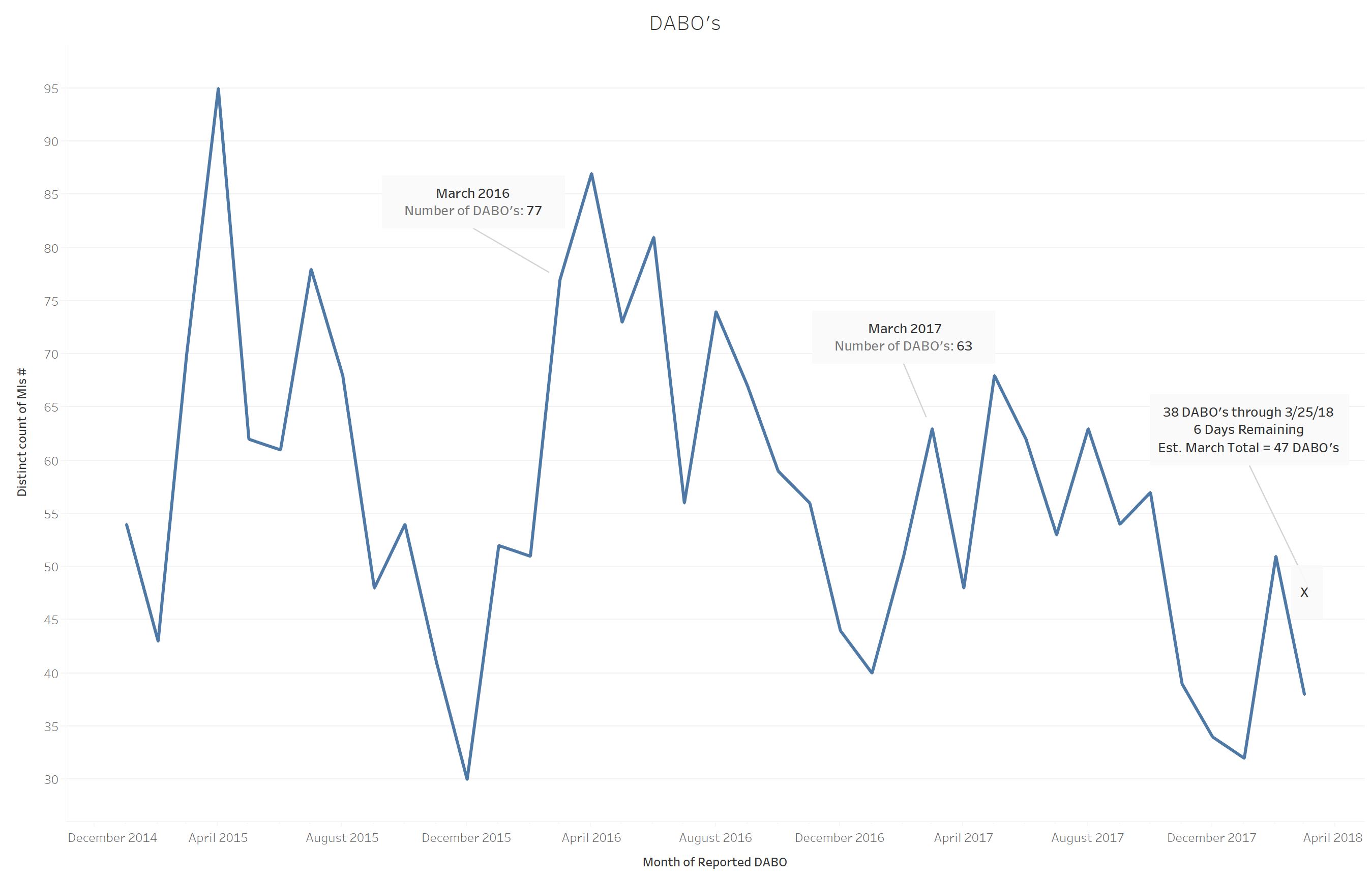 Yikes – DABO's are on-track to be down 25% year-over-year for March.  It's tough to say how much of this is to blame on the negative impact of tax reform, rising interest rates, or the reval, but at this point, it's pretty clear that something is weighing on Buyer's minds (demand) and Seller's (supply) as well.  Let's stick with demand for a moment and see how condo sales volume looks: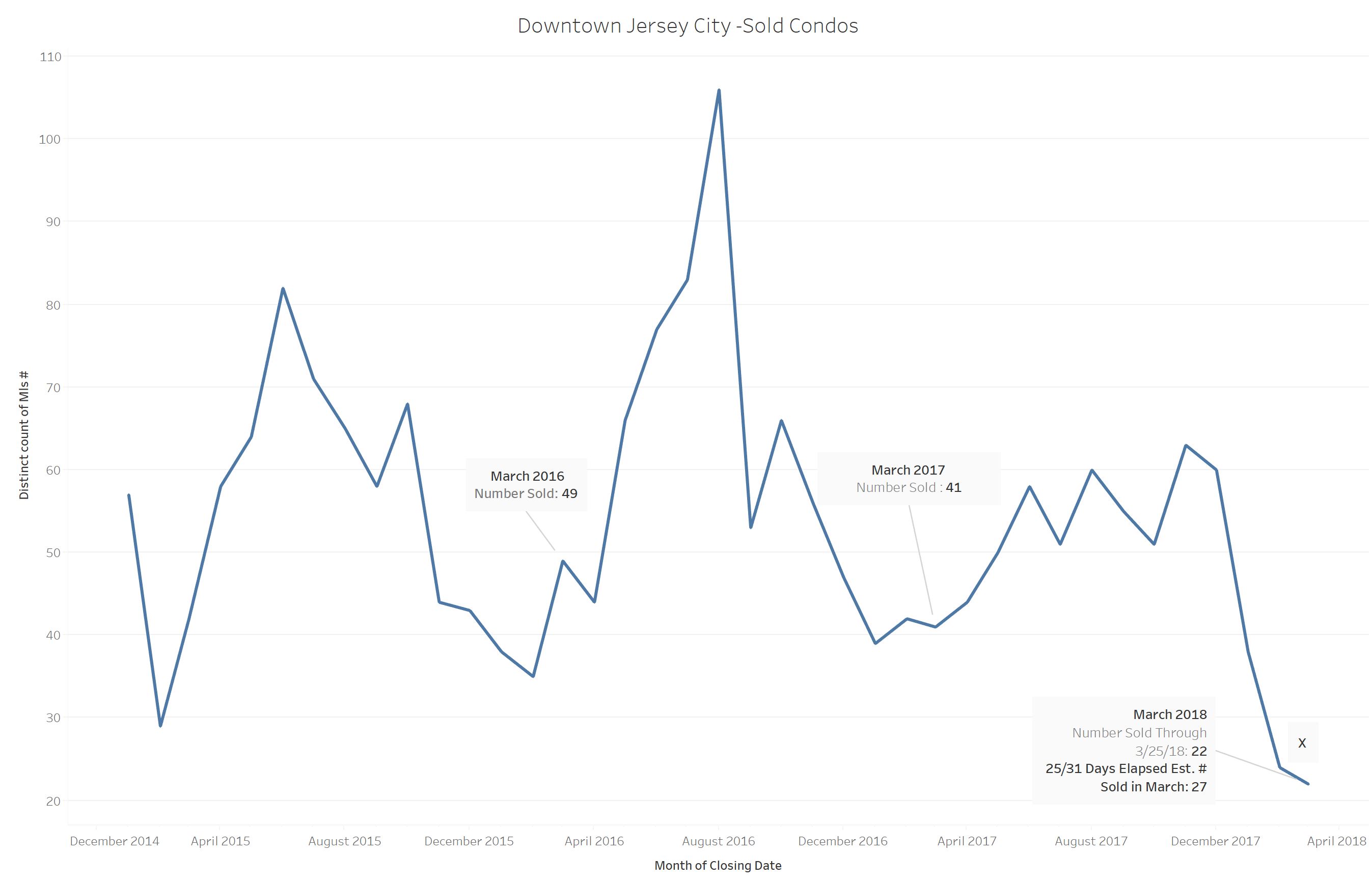 Same story here – we're on track for roughly 27 condo sales in March and just 24 sold in February.  At this point it's pretty conclusive – in Downtown Jersey City, Supply is through the roof and Demand has declined.  Sellers in Downtown Jersey City – there are still buyers out there – do not make the mistake of overpricing in this market, the Revaluation, rising interest rates, and tax reform are on Buyer's minds.  Look at recently sold comps and make sure that you're priced attractively. If you bought in 2016 or earlier, you're likely still well in the black.  I don't hold a crystal ball, and it's still early in the spring market, so it's possible that demand will pick-up and inventory will level off.  What I can say is if the recent trend continues for the next 60 days or so, the Downtown Jersey City market will be in meltdown mode.  If you're thinking of selling in Downtown JC, this could be your last chance to lock in the gains of recent years, pricing "attractive" now is far better than pricing "desperate" later.  While all boats rise and fall with the tide, Downtown JC is a nuanced market at the moment, tax abated properties are significantly better off, and the magnitude the revaluation's impact will vary from property to property – hire a Realtor who is knowledgeable and can answer your revaluation, tax reform, and current market conditions questions!  If you're thinking of selling in Downtown Jersey City, I'd love to help you make a well-informed decision. Click here to request a free, no obligation analysis of your property.